Further Specification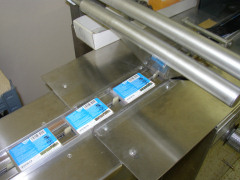 Material:
The most laminated cards are made of multilayer PVC. Chip cards are made from ABS as well.
Thickness:
The common size of laminated cards produced are 0,30 / 0,40 / 0,50 / 0,76 mm (0.60 mm are also produced as exception), 0,80 through to 0.84 mm for chip cards.
Printing:
We usually use CMYK or direct colours according to Pantone. Screen printing - all area printing of special, metallic colours and signature fields. Special lamination foil with adhesive is used in case of "bleeding".
Although it is slightly lower quality, digital printing reduces the production costs of cards.
Magnetic tapes:
LoCo (compactness 300 Oe, lower resistance against the effects of external magnetic fields), is the cheapest and most widely used card
MeCo (compactness 2750 Oe, is only used as a new standard for VISA bank cards)
HiCo (compactness 4000 Oe, is highly resistant against the effects of external magnetic fields)
Signature fields:
Are printed by screen-printing, this is the standard (white, coloured or transparent). Paper roll-on editions of up to 5,000 pieces can be made for a lower price.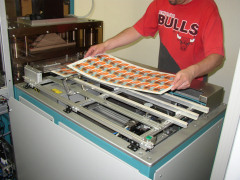 Scratch-Off fields:
Special layer for the covering of printed data on a card (mostly code numbers), used in particular for prepaid cards in the field of telecommunications
Holographs:
To secure cards and their authenticity, 2D/3D holographs are used, either Auto adhesion or Hot Stamping. There is budget price for a minimum of 10,000 pieces.
Thermal Printing:
Colour or monochromatic printing is used for small editions of cards
Monochromatic printing is used for bar codes and other variable data
Resolution: 300 DPI maximum
Embossing:
Relief stamping of selected symbols (names, numbers, special symbols)
We use Czech, Slovak and German characters.
Card tipping - colour accentuation of character tops (most common colours used are black, silver and gold; however various colour shades can be used both in gloss and matt).
Coding:
We provide coding for all three tracks types: Lo-Co, Me-Co and Hi-Co magnetic cards.
Hot-stamping:
Hot Stamping of all types of holograms or text and logo stamping through special metallic foils as well as signature field and scratch-off field stamping.